Humidor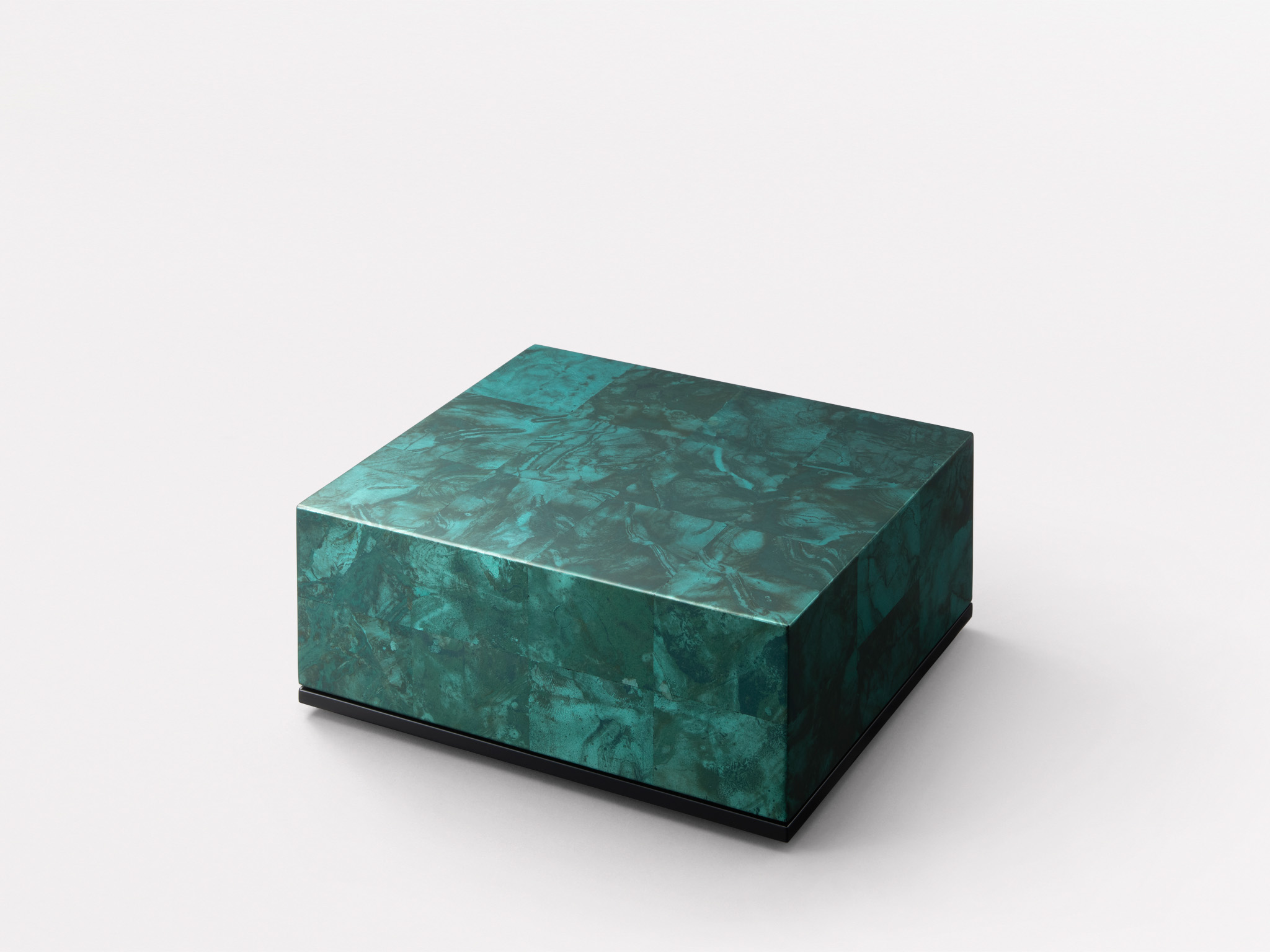 A high-functioning, high-quality humidor built using precise woodworking techniques
Humidors protect cigars from drying out by maintaining a constant internal humidity using a humidifier. They must also preserve the cigars' scent and flavor.
The traditional woodworking techniques of Japan can create a highly precise seal, completely preventing the intrusion of outside air. It is a traditional Japanese practice to place important things into boxes, drawers, or other containers made of thick paulownia wood. This makes the humidor an excellent project for the use of traditional techniques.
| | |
| --- | --- |
| Title | Humidor |
| Date | 2020.07 |
| Techniques | Woodworking, finishing, gold leaf application |
| Materials | Paulownia, mahogany, SUS430, gilded metalwork, cashew oil, gold leaf and other metal foils, urethane, humidifier with magnet |
| Size | Width: 280mm, depth: 240mm, height: 115mm |
| Design | Yosuke Inui |
| Photography | Hiroshi Ohno |
---
Integrated traditional materials and techniques
The body of the object is made of paulownia wood, which excels at regulating humidity levels and at preventing the intrusion of air and heat, while the interior is coated in mahogany, a wood often used in humidors.
A hard finish is achieved using cashew oil, after which leaf is applied to the exterior.
For the gold leaf finish, gold leaf of different purities is affixed in an alternating order, creating a checkered pattern through a slight difference in color. After the leaf is affixed, a coating is applied to prevent it from peeling off.
Woodworking

Working with unfinished wood is an important initial process for creating the foundation or frame of a product.
Woodworking at INOUE is based on the exacting quality found in the traditional arts that have been cultivated by the production of Buddhist altars in the castle town of Hikone since the Edo Period (1603-1868 CE). Craftsmen produced these altars by hand and without nails, demanding uncompromising quality in the careful selection of the best materials for use in mortise and tenon construction. These altars are durable enough to be handed down through many generations. Furthermore, we have connections with woodworking shops in other areas that specialize in mass production, allowing us to select the appropriate methods of woodworking for any project.


Gold plating (Hakuoshi, hakuhari, or hakuoki)

Hakuoshi is a decorative technique for covering items with gold or silver leaf or platinum foil.
While the material is called "gold leaf," it includes a variety of types. These range from gold with a high degree of purity to silver admixtures that allow for an adjustment of the foil's color. Techniques for applying the gold leaf include methods that bring out the luster of the foil as well as methods that create an elegant or refined appearance.
At INOUE, veteran craftsmen employ a wide variety of methods for gold leaf application. We have also developed techniques for the application of gold leaf to modern materials, such as acrylic resin and glass.


Finishes (cashew, urethane, etc.)

At INOUE, the quality of our finishes is consistently and carefully scrutinized with a watchful eye. From sophisticated traditional techniques such as base coats of natural lacquer to cashew finishes made with the natural resin of the cashew tree, also a member of the lacquer family, to urethane finishes made with synthetic resins, we provide a wide variety of finishing techniques.
Given our extensive network of craftsmen with unparalleled technical skill, we can fulfill requests for finishes of nearly any kind.