Meiso, a Compact Household Buddhist Altar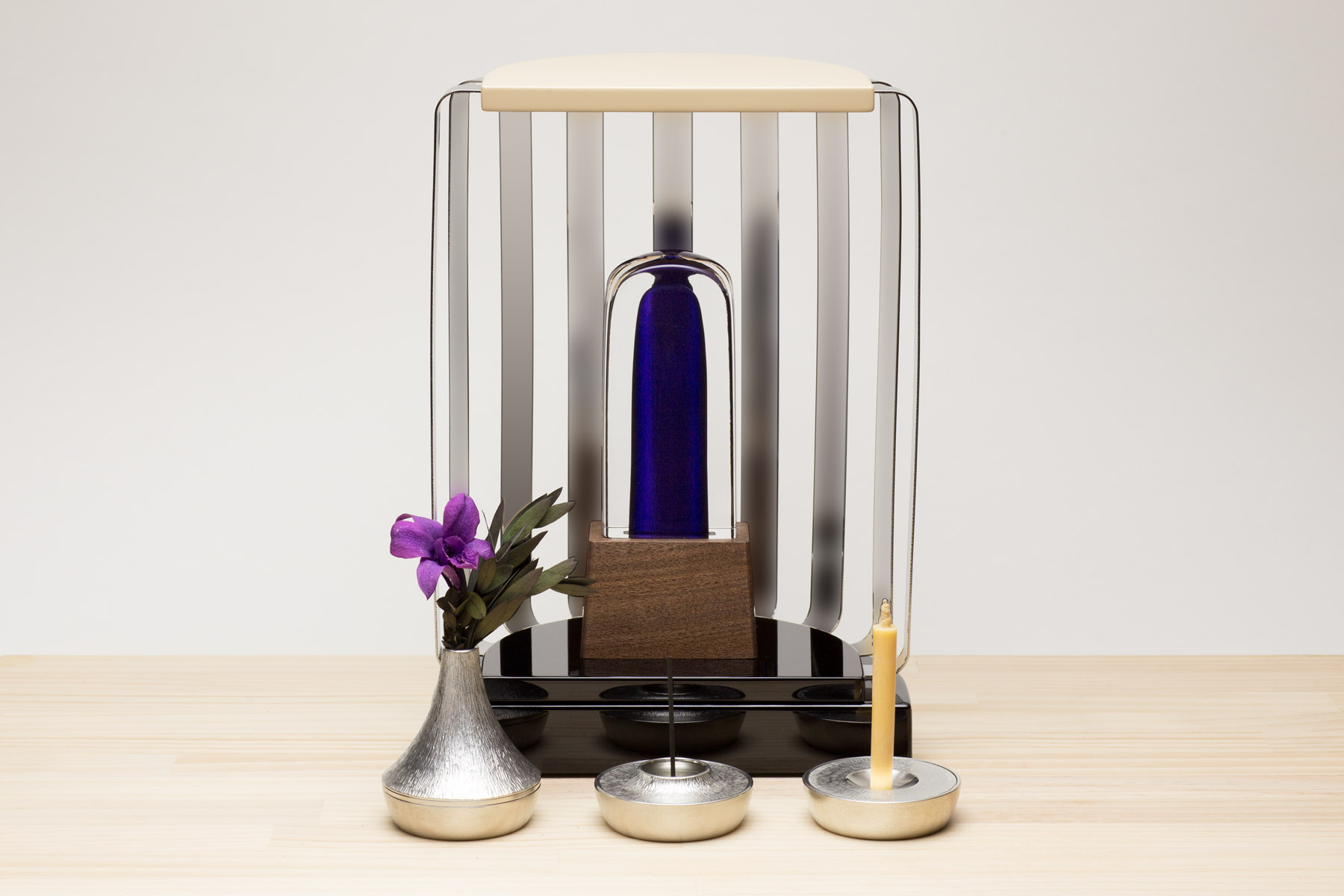 An altar with a refreshing, modern appearance
A compact altar that provides a new style of worship.
This altar has been designed around the motif of a small space to indulge in meditation. A compact, black lacquer stand is covered in silver and adorned with a small roof finished with ivory lacquer.
| | |
| --- | --- |
| Title | Meiso, a Compact Household Buddhist Altar |
| Date | 2014.01 |
| Theme | Compact household Buddhist altar |
| Techniques | Woodworking, lacquering, finishing, metal (brass) bending, nickel gilding |
| Materials | Hiba wood, MDF, lacquer, cashew oil, copper plate |
| Size | W200 D130 H290 mm |
| Photography | Masahiko Nogami |
---
Integrated traditional materials and techniques
This altar is assembled from natural wood and modern materials. The lightest that lacquer can be made is a cream color, but in this case the cream has a high-quality, high-gloss lacquer finish. It is very difficult to polish white lacquer, but we have techniques to add a beautiful polish. The strips of metal are gilded in nickel and turned at the same angle to enclose the interior of the altar.
Woodworking

Working with unfinished wood is an important initial process for creating the foundation or frame of a product.
Woodworking at INOUE is based on the exacting quality found in the traditional arts that have been cultivated by the production of Buddhist altars in the castle town of Hikone since the Edo Period (1603-1868 CE). Craftsmen produced these altars by hand and without nails, demanding uncompromising quality in the careful selection of the best materials for use in mortise and tenon construction. These altars are durable enough to be handed down through many generations. Furthermore, we have connections with woodworking shops in other areas that specialize in mass production, allowing us to select the appropriate methods of woodworking for any project.


Lacquering

Lacquer is Japan's exceptionally beautiful and high-quality traditional method of finishing. It is one of the most protective coatings in existence but can be very difficult to handle. Applying lacquer evenly requires the touch of a skillful craftsman from the first coat. The lacquer must be applied in many coats, from the first coat to the final finish, and the painting and polishing processes must be repeated many times over.
A high-gloss lacquer finish, considered the highest level of lacquer, involves the painted lacquer being polished flat, after which raw lacquer is repeatedly rubbed into the surface and polished to bring out a deep luster that is nearly mirror-like.
Based on our extensive knowledge of producing Buddhist altars, INOUE is able to offer the appropriate lacquering methods and craftsmen capable of implementing them, from a black, high-gloss lacquer finishes to a broad range of other coatings and lacquer colors.


Gilding

Gilding is a surface processing technique that involves coating a target object, either metal or a non-metal such as plastic, with another metal. In the case of Buddhist altars, brass and copper surfaces are often gilded with gold or silver.