KISSHO Watch Winder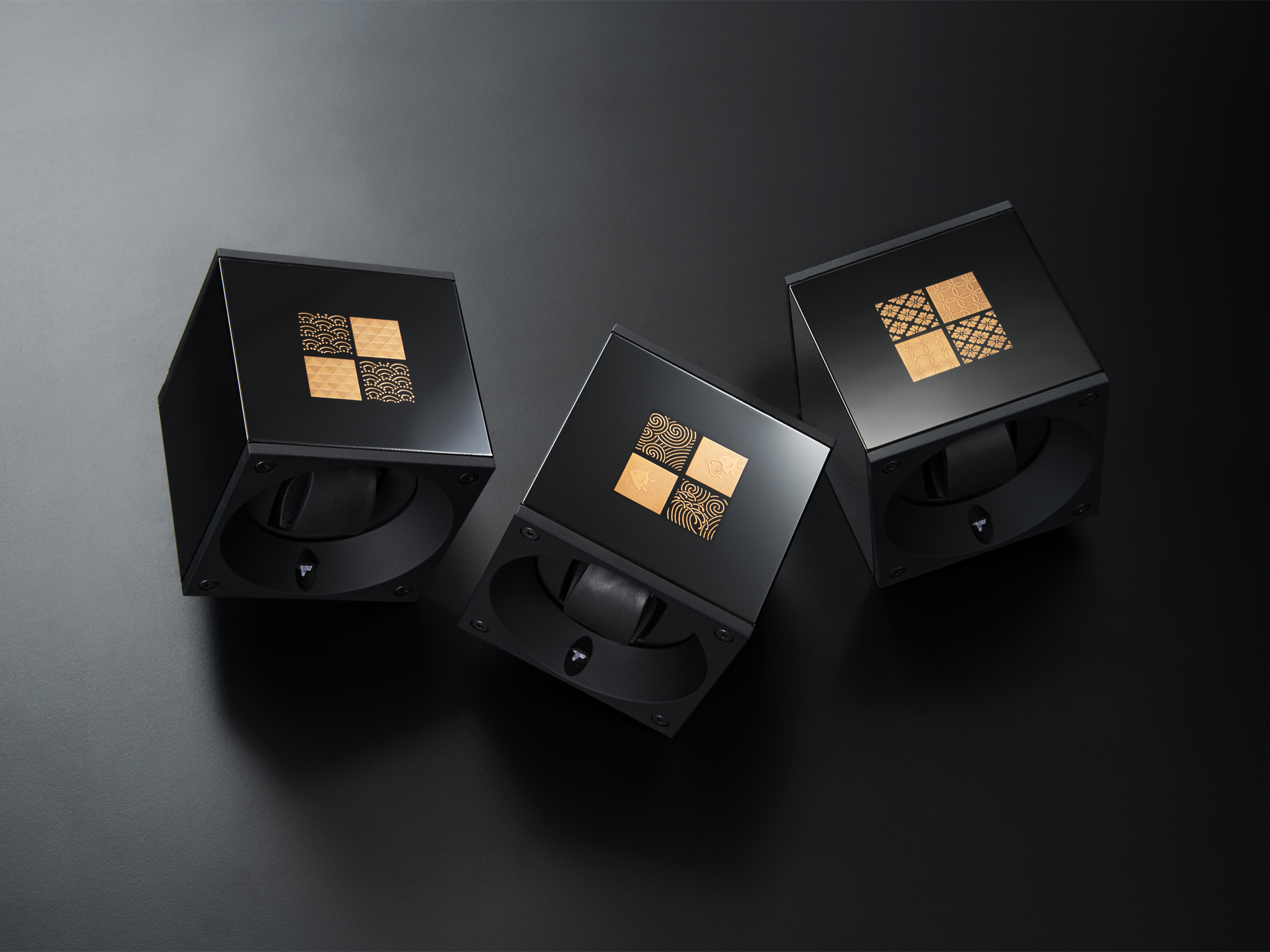 Beautiful art objects adorning devices of unparalleled quality
These products are produced by applying lacquer and maki-e to the body of the famous and reliable SWISS Kubik watch winders. They were developed in cooperation with the Japanese representative of the SWISS Kubik brand as objects of appropriate quality for clients passionate about wrist watches.
By painting the aluminum frame of the winder itself, these objects are given a feeling of warmth and quality. Applying the finish to body of the winder itself also restrains costs and increases durability.
Adding the glossy expression of lacquer, the fine details of the maki-e, and the auspicious patterns, we hope that the winders' owners will be able to enjoy their peerless possessions even more fully.
| | |
| --- | --- |
| Title | KISSHO Watch Winder |
| Date | 2017.08 |
| Theme | Watch Winder |
| Techniques | High-gloss lacquer finish, maki-e drawing |
| Materials | Aluminum body, lacquer, gold powder |
| Size | Width:100mm; height:100mm; depth:100mm; weight:770g |
| Design | Yosuke Inui |
| Photography | Hiroshi Ohno |
---
Integrated traditional materials and techniques
To increase adhesion to the aluminum, the base coat is applied by baking the lacquer. The topcoat uses a high-quality, high-gloss finish. The maki-e images are divided to form a checkered pattern, a traditional and auspicious pattern in Japan.
Lacquering

Lacquer is Japan's exceptionally beautiful and high-quality traditional method of finishing. It is one of the most protective coatings in existence but can be very difficult to handle. Applying lacquer evenly requires the touch of a skillful craftsman from the first coat. The lacquer must be applied in many coats, from the first coat to the final finish, and the painting and polishing processes must be repeated many times over.
A high-gloss lacquer finish, considered the highest level of lacquer, involves the painted lacquer being polished flat, after which raw lacquer is repeatedly rubbed into the surface and polished to bring out a deep luster that is nearly mirror-like.
Based on our extensive knowledge of producing Buddhist altars, INOUE is able to offer the appropriate lacquering methods and craftsmen capable of implementing them, from a black, high-gloss lacquer finishes to a broad range of other coatings and lacquer colors.


Maki-e

Maki-e is an artistic lacquer technique that involves drawing pictures or patterns using lacquer and then sprinkling them with gold dust or other fine powders. Maki-e originates in Japan and is one of the unique traditional techniques developed here. Maki-e includes many subsidiary techniques, such as hiramakie, takamakie, and togidashimakie. Furthermore, maki-e includes a wide variety of different end products, such as the expression of depth through different types or sizes of gold powder and the application of a variety of processing techniques.
At INOUE, we have built a network of maki-e craftsmen with a wide range of skills, allowing us to provide the skills needed for any project, from projects demanding the utmost quality to those needing to fit into a tight budget.